SSC CGL Notification 2023 - Recruitment for 36001 Govt Jobs
Click to get the infographics of SSC CGL Notification 2023 for Eligibility, Vacancy, Apply and Selection Process, Dates, Syllabus, Pattern etc.
Are you an aspiring candidate for a prestigious government job? If yes, then we have a really exciting news for you. Yes the big news is that the SSC CGL notification 2023 has been released on 3rd April 2023. Moreover, this process has started for the recruitment of Grade "B" and "C" category posts in various Government Ministries, Departments and Offices. Further, the SSC CGL exam consists of two stages, or Tiers i.e., Tier 1 and Tier 2. Now, before being selected, you must qualify for each and every stage of the SSC CGL exam.
Well, before we dive further in, how about an overview of the exam journey?
Overview of SSC CGL Notification 2023
Before we delve into the details of the SSC CGL Notification 2023, why don't we have a quick look at your exam journey? To put your best foot forward, knowing what you are getting into is a crucial step in your journey to success. We have prepared an easy to understand module so that you can have an overview of your journey at a single glance. The images attached below will provide you with all the necessary details at a single glance.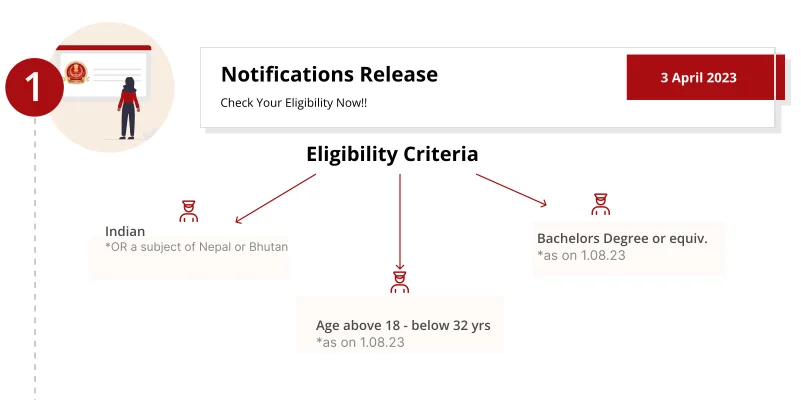 [Source: KD Live]
Now that you know the eligibility criteria and your eligibility for the CGL exam, how about we give you a brief about the posts, vacancies and the salary structure?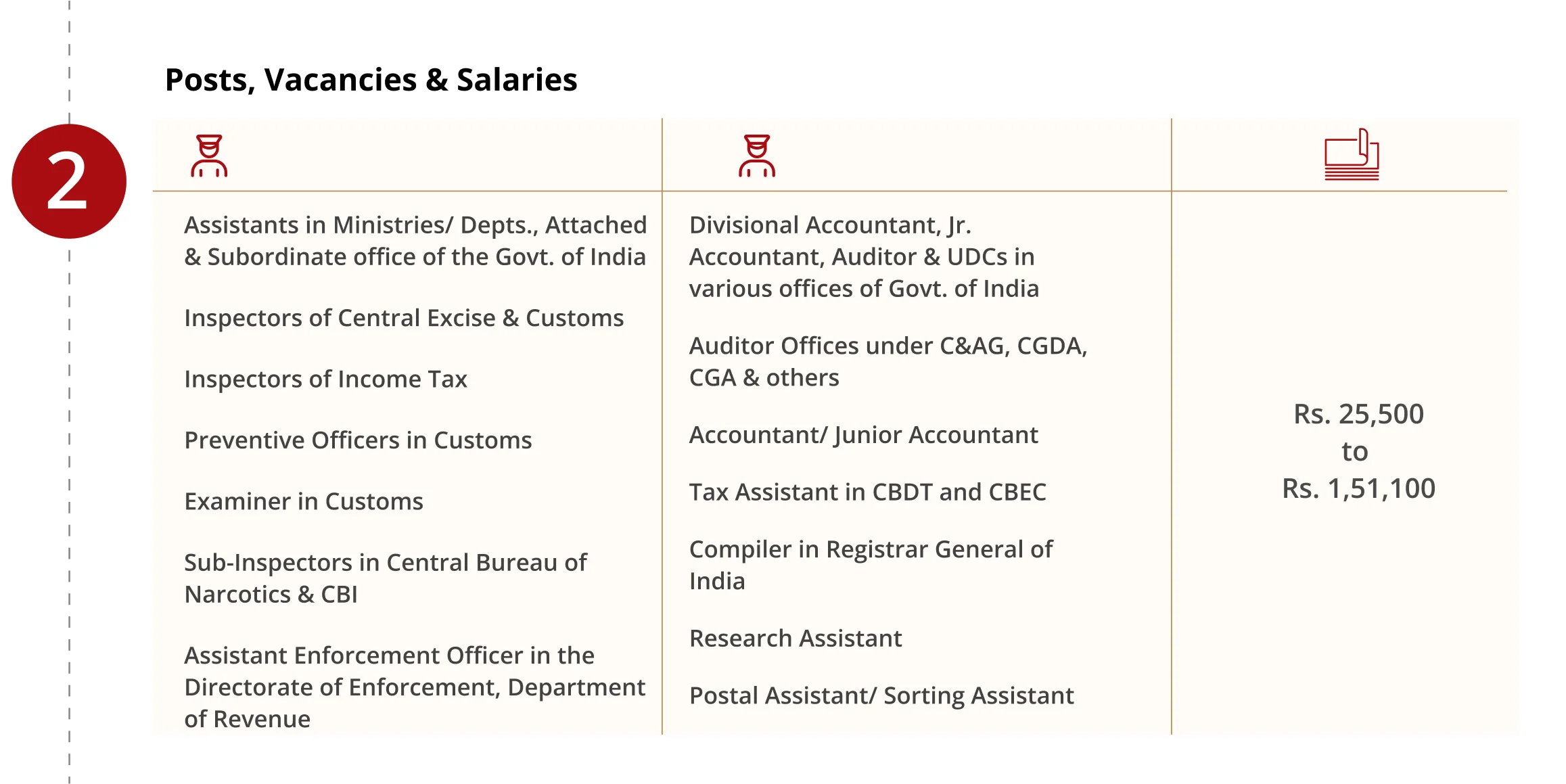 [Source: KD Live]
Now that we have understood the overview of the SSC CGL Notification 2023, let us go on a step by step journey of the examination.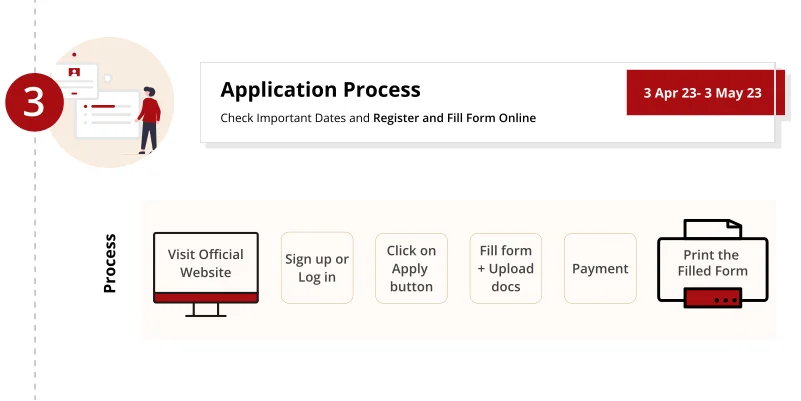 [Source: KD Live]
Since, you are now aware of the application process, let us now proceed to the next step that is the last hour exam preparation.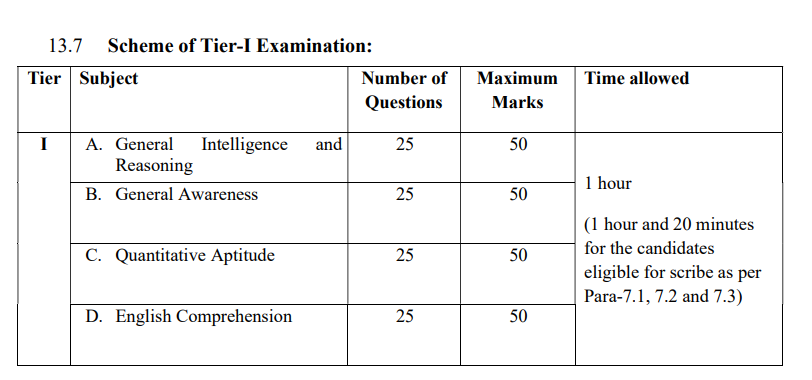 [Source: KD Live]
We hope that the image above has provided you with clarity regarding the sequence of preparation. Thus, you will first be appearing for Tier 1, and only after qualifying that you can proceed on the next step.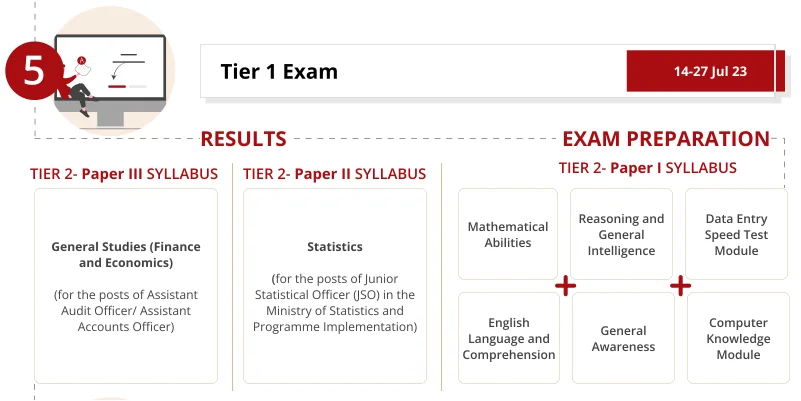 [Source: KD Live]
Do remember that only if you qualify the CGL Tier 1, you will be eligible for the Tier 2 examination.
[Source: KD Live]
Now that we have understood the process, let us learn more about the SSC CGL Examination. The Combined Graduate Level exam is conducted every year by the Staff Selection Commission of India. Moreover, as mentioned above, it aims at recruiting eligible candidates for various ministries and departments of the GOI and their subordinate offices. Going forward in this blog we will provide you with essential information regarding the notification for SSC CGL Exam 2023. Most importantly, it will include information on job posts, exam eligibility, syllabus and exam pattern. 
SSC CGL Notification 2023 PDF
First and foremost, it is crucial that you understand the contents of the official SSC CGL Notification 2023:
Eligibility
Vacancy
Posts and Salary
Exam Pattern
Syllabus
Marks Normalization
Important dates 
Application Process
Exam Centre
Further, SSC CGL Examinations aim to recruit Group B and C officers to various posts in top ministries, departments and organisations of the Government of India. According to the SSC CGL Notification 2023 the registerations have begun from 3rd april 2023 till 3rd may 2023. Further, if you want to go through the SSC CGL official notification 2023 PDF, you can do so by clicking on the embedded link.
SSC CGL 2023 Eligibility 
In order to put the best foot forward for your preparations, it is crucial that you are aware of the eligibility criteria. The eligibility criteria for the SSC CGL 2023 Exam is as follows:
Nationality: Must be a citizen of India, Nepal, Bhutan
Age Limit (as on 1.08.2023): Must be between the age group of 18 years and 32 years
Educational Qualification (as on 1.08.2023): Bachelor's degree from a recognised University
Physical Qualification: Only for candidates for certain posts like Inspector, Sub- Inspector, etc.
Although, age relaxation is provided for reserved category candidates. To know the eligibility criteria in detail, you can also read our blog SSC CGL Eligibility Criteria 2023.
SSC CGL 2023 Vacancy 
According to the official SSC CGL Notification 2023, tentative vacancies announced were 7,500 approximately. However, the Staff Selection Commission released the notice regarding the SSC CGL 2023 final vacancies on their official website on 26th April 2023. In the same vein, the final vacancies announced are 36,001 for all the categories.
Moreover, the Staff Selection Commission (SSC) conducts the Combined Graduate Level (CGL) Exam for recruitment of the posts mentioned in the image 2 under "Overview of SSC CGL Notification 2023." 
SSC CGL 2023 Post and Salary 
Moreover, it is not an unknown fact that salary is one of the main attractions of government jobs. So, lets understand the pay scale that the qualified candidates will have after clearing the SSC CGL 2023 examination. In addition, the total in-hand salary for every post will vary according to its pay grade level ranging between Rs. 25,500 to Rs. 1,51,100. However, these are inclusive of different perks like HRA, travel allowance, DA, etc.
Lets further understand the structuring of it: 
Suppose the Basic Pay for the post is Rs. 44,900, then the provided House Rent Allowance will be 24% of Basic Pay i.e Rs. 10,776 (according to assumed post and city) 
Further the travel allowance provided will be Rs. 3600 (as the assumed Grade Pay lies in between Grade Pay of 2000 to 4800).
Now that you have a brief information regarding the vacancies, posts and salaries. How about knowing the exam pattern for the SSC CGL 2023 examination? 
SSC CGL 2023 Exam Pattern
Before we delve into the exam pattern, let us learn why is it important to be aware of the exam pattern. Knowing your exam pattern helps you plan your exam strategy. The SSC CGL 2023 examination is conducted in 3 different tier or stages:
Tier 1: First, is the qualifying exam which is a computer based examination. Moreover, tier 1 exam is compulsory for all. 

Tier 2: Paper I (Compulsory for all posts), Paper II for candidates who apply for the posts of Junior Statistical Officer (JSO) in the Ministry of Statistics and Programme Implementation and Paper III for candidates who apply for the posts of Assistant Audit Officer/ Assistant Accounts Officer.
Moreover, after the Tier 1 examination, you will be shortlisted based on your marks, with consideration for different categories, for the Tier 2 Examinations. Further, it's important to note that separate cut offs will be released for Paper-II of Tier 2 and Paper-III of Tier 2. Although, Paper 2 and Paper 3 are specifically for the posts of Assistant Audit Officer and Assistant Accounts Officer. Whereas, the Paper-I of Tier 2 will be applicable to all other posts. Thus, all qualified candidates from Tier 1 will be eligible to take part in the Tier 2 Examinations.
If you want to know more about the exam pattern, you can check out our blog SSC CGL Exam Pattern 2023 by clicking on the embedded link.
SSC CGL 2023 Syllabus
Further, you would have understood the subjects for which you must prepare after knowing the exam pattern. Subsequently, knowing the syllabus in depth is now critical because it directs your study efforts, resource selection, and time management, resulting in a more organised and strategic preparation approach. The SSC CGL examination consists of 2 tiers. 
The Tier 1 of the examination comprises of 4 subjects:
General Intelligence and Reasoning
General Awareness
Quantitative Aptitude
English Comprehension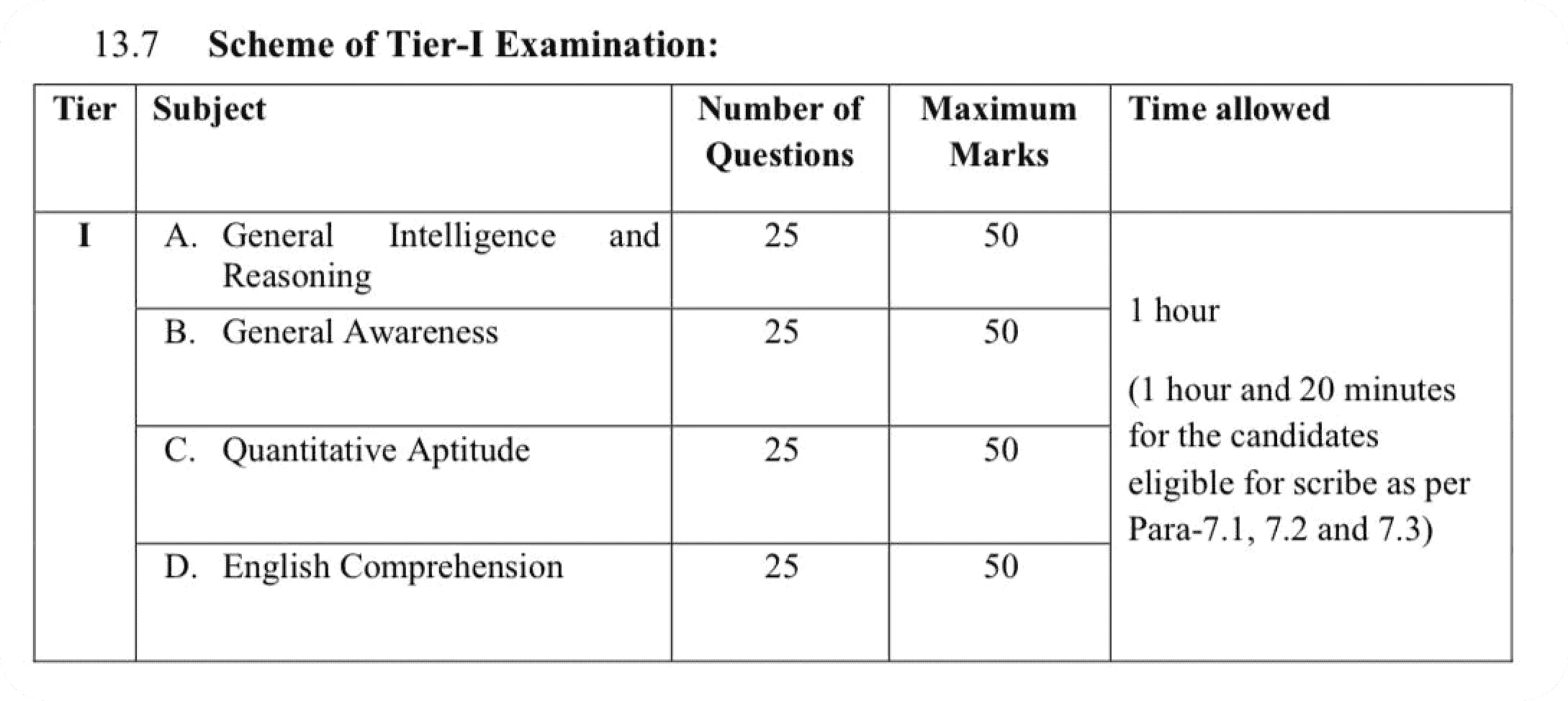 [Source: ssc.nic.in ]
The Tier 2 examination comprises of 3 subjects:
Paper I: Mathematical Abilities, Reasoning and General Intelligence, English Language and Comprehension, General Awareness, Computer Knowledge Module and Data Entry Speed Test Module.
Paper II: Statistics
Paper III: General Studies (Finance and Economics)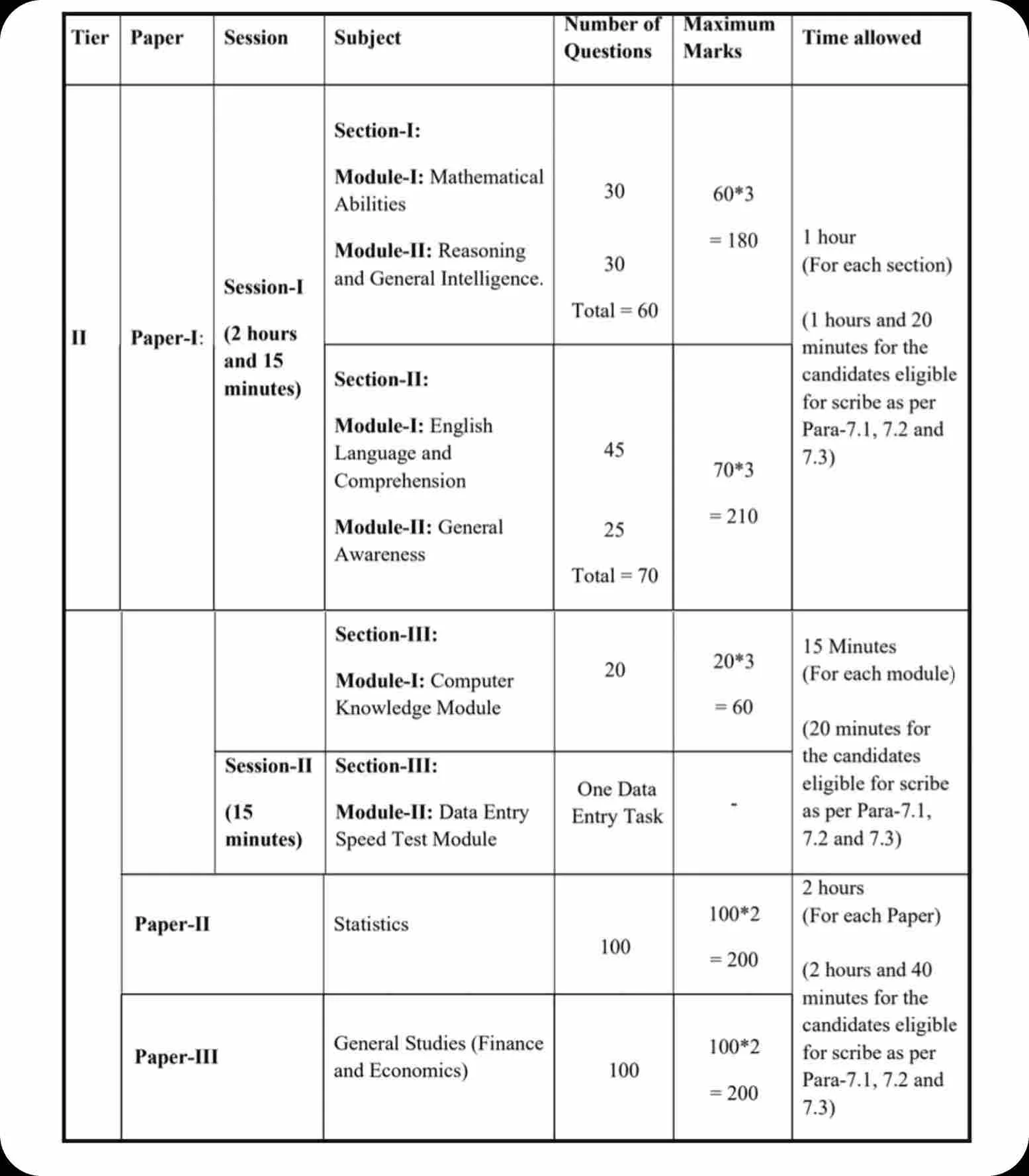 [Source: ssc.nic.in ]
If you want to learn more about the SSC CGL Syllabus 2023, click on the embedded link to check out our blog on the same.
SSC CGL 2023 Marking Scheme
As is clear from our exam pattern segment, we have 200 questions in Tier 1, and each subject consists of 25 questions with a weightage of 50 marks. But one thing that you must remember is that for every wrong answer there is a panalty of 0.5 mark. This marking scheme is constant for both Tier 1 and Tier 2 examination. Also, all the questions will be provided in both Hindi and English with English Language section being an obvious exclusion. 
SSC CGL 2023 Marks Normalization
Let us first begin with understanding what marks normalization actually is. Well, it is a statistical technique that takes into account any differences in the degree of difficulty of the question papers across different shifts of the same exam. Direct score comparison may not be fair because the complexity of the questions between shifts can change. Thus, normalization resolves this problem by bringing the scores into parity, allowing for a more fair assessment of candidates.
Thus, back in 2019, the Staff Selection Commission published the formula in Notice No.1-1/2018-P&P-I dated 07-02-2019, which is being followed eversince. Subsequently, these normalized scores are utilized to determine the final merit and cut-off marks.
SSC CGL 2023 Important Dates
The SSC CGL 2023 exam forms were out on 3rd April 2023. Further, the last date for submitting the online form was one month from the release date i.e 3rd May 2023. Consequently, the interested candidates filled up the application form using the official link. Candidates need to pay attention while filling the form to avoid any hustle later. The snip of the official notification is given below:

[Source: ssc.nic.in]
You can also read in detail about the important dates of SSC CGL 2023 by clicking on the embedded link.
SSC CGL 2023 Application Form link
The staff selection commission released the official notification for SSC CGL 2023 on 3rd April 2023. Further, the application link had closed after one month of the release of the notification i.e., 3rd may 2023. Make sure you fill all necessary details correctly to avoid hustle later. You can click on the embedded link to fill the application form for SSC CGL 2023 Examination.
Application Fee for SSC CGL 2023
The application fee for SSC CGL 2023 exam is Rs 100 only. However, the government provides exemption to females, SC, ST, Physically Handicapped, and Ex-Servicemen candidates. 
The fee can be paid only through online payment modes, namely BHIM UPI, Net Banking, or by using Visa, MasterCard, Maestro, or RuPay Credit or Debit card. 
Further, the fee once submitted is non refundable under any circumstances.
SSC CGL 2023 Apply Online- Step by Step Approach
To access the SSC CGL Notification and Application Link 2023, follow these steps:
Visit the official SSC website.
Sign up to create your Unique id and password.
Once you are done with that step, log in to fill up the SSC CGL 2023 form by clicking on the apply button.
Fill up all your details and upload all your documents required to move to next step.
Further, if you are applicable for an application fee, pay the amount and submit it.
At the end, once the payment is made, don't forget to take a printout of the application form for future requirements.
SSC CGL 2023 Admit Card and Exam Center
The date of CGL Admit Card 2023 was announced on July 8th, 2023 for all regions for the Tier 1 examination for SSC CGL 2023, which was held from July 14th to July 27th, 2023. However, for your convenience, we have provided a link to download the admit card. Furthermore, candidates must choose their preferred center(s) when completing the online application form. Furthermore, you can submit three preferences based on your comfort and importance. You can refer to the official notification for further information on the exam centers.
Hopefully, this blog has handed you with a lot of clarity. But if you still want to know more in detail, you can check out our blogs at KD Live, and we will keep you up to date. Also, if you're determined to get through in this attempt, make note that every bit of information regarding your exam is of utmost significance. However, nothing beats the hardwork that you put in, so stay focused and work hard. KD Live will always be your guiding factor in this journey.
Updated on: 2023-12-02 17:11:46  
SSC CGL Notification 2023 FAQs
Ananya Chopra
Marketing Content Writer
https://web.kdcampus.live/
KD Campus
Best Publisher for English Content
Since 1995, Neetu Mam is Providing Free Content for English to the Students
SSC CGL Notification 2023 Comments:
SSC CGL Notification 2023 RELATED ARTICLES